Club History
On a Sunday afternoon in 1906, two determined men hurried down the platform for the London train in Lime Street station. One was carrying a leather holdall with the whole of Saturday's takings from Lewis's – Liverpool's largest department store. They stayed overnight in a London hotel and the next morning were waiting outside a Solicitor's office for it to open.
The cause of this drama was that land on the north side of Speke Road was up for sale and there was at least one other interested party. This rival, it was learned on the Saturday afternoon, intended to complete the purchase at 10.00am on the Monday. At that time purchases had to be in cash. The banks were closed, so no cash was available. All seemed lost. It was then that Lewis Cohen offered to lend them all of Lewis's Saturday's takings to provide the cash. The purchase was completed just ahead of the rival.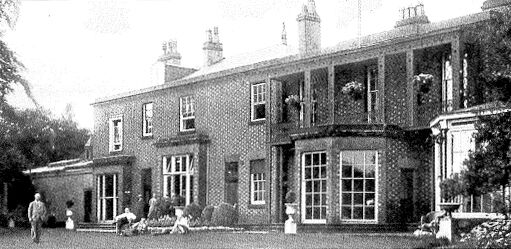 The Woolton Golf Club Clubhouse. circa 1930

Lewis Samuel Cohen was a director of Lewis's Limited and regarded as one of the country's greatest shopkeepers. In 1899 he purchased Doe Park, the house and 45.428 acres, with the intention of creating a golf course. It was ready for play towards the end of 1900 and Woolton Golf club was born with nine holes – hence the later determination to obtain the land in 1906 to extend to eighteen holes. From all this it can be seen that Woolton Golf Club was virtually Lewis Cohen's creation.
It was founded with a deliberately liberal ethos, the success of which can be judged that by 1914 there had been Anglican, Jewish, Non-conformist and Catholic Captains of the Club. The second signature in the membership book is that of a lady and although we cannot establish the date, our ladies had a vote very early in the Club's existence.